Jurassic World: Dominion Dominates Fandom Wikis - The Loop
Play Sound
| | |
| --- | --- |
| | This article is about all bonecharms available in both games. For bonecharm locations, see bonecharm locations. |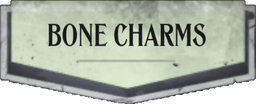 Bonecharms are resources which are carved from whalebone and found throughout the cities of Dunwall and Karnaca. Which exact bonecharm is found is random, but the type of bonecharm is set, so a regular bonecharm will always be found where a regular bonecharm was found previously, for example. They can be more easily located using the Heart which is given to Corvo (or Emily) by the Outsider.
Bonecharms provide minor supernatural benefits. Locate them by listening for the "song" they emit, or use the Heart to detect them from further away. By default, 5 [1] Bonecharms can be equipped at once in the Bonecharms section of the Journal. Later, upgrades can be purchased to increase that capacity.
In Dishonored 2, Emily can use them as well. Additionally, there are "corrupted" and "black" bonecharms. Note: For bonecharm locations, see the "Boncharms" section of the relevant mission,
Corrupt and Black Bonecharms are rare and powerful, offering exotic effects. But Corrupt Bonecharms are unstable, and also possess negative effects.
With the Bonecharm Crafting Enhancement, you can craft new Bonecharms by sacrificing Bonecharms and Runes you've found in the world to learn new Traits and obtain Raw Whalebone. (You cannot learn the Traits from Corrupt or Black Bonecharms.)
| Name | Description | Type     | Dishonored     | Dishonored 2     |
| --- | --- | --- | --- | --- |
| | Animal Possessions last longer | Regular | | |
| | Increases your climbing speed | Regular | | |
| | You recover from falls a bit faster | Regular | | |
| | Possession lasts slightly longer | Regular | | |
| | Rat swarms include more White Rats | Regular | | |
| | Increases your swim speed | Regular | | |
| | Bolt packs have a slight chance of containing one extra crossbow bolt | Regular | | |
| | Restores some Health when you do a Drop Assassination | Regular | | |
| | Bloodflies attack you only if you get really close to their nests | Regular | | |
| | Spring Razors have a slight chance to destroy a victim's body | Regular | | |
| | You receive less damage from explosions | Regular | [2] | |
| | Killing Bloodflies and Rats restores your Health | Regular | | |
| | You gain Adrenaline from killing Rats and Bloodflies | Regular | | |
| | Your Grenades deal more damage | Regular | | |
| | Causes Gravehounds to sometimes die automatically when summoned | Regular | | |
| | Increases the damage of your Bullets | Regular | | |
| | Increases the area of effect for your Stun Mines | Regular | | |
| | Doppelgangers last longer | Regular | | |
| | Increases the damage of your Bolts | Regular | | |
| | Drop assassinations restore some Mana | Regular | | |
| | You win locked-Sword contests more often | Regular | [2] | |
| | Incendiary Bolts have a larger radius | Regular | | |
| | You slide faster | Regular | | |
| | Consume White Rats to restore Mana | Regular | [3] | |
| | Food restores more Health | Regular | | |
| | Exploding bottles deal slightly more damage | Regular | | |
| | Regenerates Mana when you're underwater | Regular | | |
| | Drinking from fountains restores a bit of Health | Regular | | |
| | Raises your chance to recover Sleep and Confusion Darts | Regular | | |
| | Witches sometimes stumble after magical relocation | Regular | | |
| | Doppelgangers have more health | Regular | | |
| | Howling Blasts are louder and have a larger radius | Regular | | |
| | Health regenerates when using Dark Vision | Regular | | |
| | Elixirs restore slightly more Health | Regular | | |
| | Nestkeeper's screams have a chance to kill all surrounding Bloodflies | Regular | | |
| | 50% chance to receive extra ammo from pickups | Regular | | |
| | Shadow Walk lasts slightly longer | Regular | | |
| | Drinking from fountains restores a bit of Mana | Regular | | |
| | Elixirs restore slightly more Mana | Regular | | |
| | Drinking and using Mana Elixirs sometimes restores you to full Mana | Regular | | |
| | Mana regenerates faster | Regular | | |
| | Killing Bloodflies and Rats restores your Mana | Regular | | |
| | Enemies are choked faster | Regular | | |
| | You can hold your breath longer underwater | Regular | | |
| | You gain Adrenaline while underwater | Regular | | |
| | Increases movement speed in stealth mode | Regular | | |
| | Increases movement speed when your weapons are sheathed | Regular | | |
| | Rat swarms last slightly longer | Regular | | |
| | Enemy Grenades take longer to explode | Regular | | |
| | You move a bit faster when carrying a body | Regular | | |
| | Enemy Grenades sometimes malfunction | Regular | | |
| | Enemies sometimes drop Grenades and debris at their feet; oops! | Regular | | |
| | Enemies have a greater chance to miss with their projectiles | Regular | | |
| | You generate Adrenaline when you take melee damage from an enemy | Regular | | |
| | Sometimes enemies fall unconscious when Mesmerize ends | Regular | | |
| | Raises your Sword's attack speed | Regular | | |
| | Enemy grenades take slightly more time to explode | Regular | | |
| | Food heals slightly more | Regular | | |
| | Food heals moderately more | Regular | | |
| | Increases your mana bar | Regular | | |
| | Damage by weepers grants a small amount of mana | Regular | | |
| | Weepers inflict slightly less damage | Regular | | |
| | Rats attack you only when you walk closer | Regular | | |
| | Bolts stuck in enemies break less often | Regular | | |
| | Potions grant slightly more health | Regular | | |
| | Potions grant moderately more health | Regular | | |
| | Potions give you slightly more mana | Regular | | |
| | Potions grant moderately more mana | Regular | | |
| | Increased chance that bolts won't break | Regular | | |
| | Your adrenaline takes slightly longer to cool down | Regular | | |
| | Thrown objects travel slightly further | Regular | | |
| | Your max health has been slightly increased | Regular | | |
| | Very rarely, a potion grants full mana | Regular | | |
| | Rarely, a potion grants full mana | Regular | | |
| | Enemies have a slight chance to miss with guns | Regular | | |
| | Enemies have a moderate chance to miss with guns | Regular | | |
| | Drinking from fountains recharges a small amount of health | Regular | | |
| | Increased possession time for white rats | Regular | | |
| | Increased swing speed for swords | Regular | | |
| | You swing your sword moderately faster | Regular | | |
| | Corvo's supernatural abilities last longer and do more damage | Regular | [3] | |
| | White rats are neutral towards Corvo, not hostile | Regular | [3] | |
| | Shot whiskey bottles explode with greater intensity | Regular | [2] | |
| | Drop assassination gives you a bit of health | Regular | [4] | |
| | Swim speed increased slightly | Regular | [4] | |
| | Enemies miss more often with arrows and bolts | Regular | [4] | |
| | Breaking glass sound is moderately reduced | Regular | [5] | |
| | Breath capacity in water increased slightly | Regular | [5] | |
| | Moderate keyhole peeping magnification | Regular | [5] | |
| | You take far less damage, but movement speed is reduced | Corrupted | | |
| | Doppelgangers deal more damage but last half as long | Corrupted | | |
| | You gain invisibility briefly after knocking out or assassinating an enemy, but enemies can see and hear when you lean | Corrupted | | |
| | Grenades, oil tanks, and bottles deal more damage but have a smaller blast radius | Corrupted | | |
| | You take less damage from falling, but you lose half of your Health regeneration rate | Corrupted | | |
| | Your Sword blows deal greater damage, but your Sword attacks are slower | Corrupted | | |
| | Your parries always throw enemies off balance, but you take more damage while parrying | Corrupted | | |
| | Enemies miss more often at range, but you are more visible to enemies | Corrupted | | |
| | Bolts inflict far more damage, but they always break on impact | Corrupted | | |
| | Pulling enemies with Far Reach is now quiet, but it consumes more Mana for all uses | Corrupted | | |
| | You accumulate Adrenaline faster | Corrupted | | |
| | Windblast is more powerful, but costs more Mana | Corrupted | | |
| | Taking damage drains your Mana before your Health | Corrupted | | |
| | Raises your walking and running speed, but you take more damage | Corrupted | | |
| | An enemy's first ranged attack turns into Bloodflies | Black | | |
| | You deal much more attack damage when your Health is low | Black | | |
| | Shadow Walk assassinations restore some of your Health | Black | | |
| | Increases your maximum Mana | Black | | |
| | Far Reach and Blink cost zero Mana if used right after an assassination | Black | | |
| | Wolfhounds cannot smell your character | Black | | |
| | White Wolfhounds fight on your side | Black | | |
| | Your movement doesn't slow down when your weapons are unsheathed | Black | | |
| | Adds to your maximum Health | Black | | |
| | You are invisible during Far Reach movement | Black | | |
| | You are much less likely to be knocked down | Black | | |
| | You gain Health when hitting people with your Sword or finishing assassinations | Black | | |
| | Running out of breath lowers your Mana before it starts lowering your Health | Black | | |
| | Enemy Pistols have a higher chance of misfiring | Black | | |
| | You can sprint while inside human hosts during Possession | Black | | |
| | Enemies are rendered unconscious when you end Possession | Black | | |
| | You regain Health automatically during Shadow Walk | Black | | |
| | A shockwave damages enemies and objects when you land after falling from a great height | Black | | |
| | You regain Health while your Doppelganger is active | Black | | |
| | Rat swarms repopulate over time | Black | | |
| | Most of the damage you take is subtracted from Mana | Black | | |
| | Sometimes supernatural powers consume no Mana | Regular [6] | | |
| | Bullet packs have a slight chance of containing +1 pistol bullet | Regular [6] | | |
Achievements

In Dishonored 2

In Dishonored
Notes